Inside the Shoulder: Anatomy, Problems and Prevention (Pt. II/III)
Today we'll approach a couple of crucial topics in understanding the shoulder: Its mechanics, and how a couple of nasty injuries happen: the SLAP tear, and Subacromial Impingement. -Mechanics of the Shoulder: How the Rotator Cuff (RC) muscles move the shoulder, and the complicated moving puzzle to keep the shoulder stable. The RC muscles acts as a depressor of the head of the humerus (arm bone) whenever the arm is elevated forward, to the side and overhead movements. If, amongst other factors, there is a problem with the RC, such as muscle instability, poor tone, irritation or inflammation in one of the tendons for any given reason, when the overhead movement happens, you could potentially have a pinching action of the head of the humerus against the ceiling of the shoulder (the acromion), causing a conflict of space for the structures in between. This is called Subacromial Impingement. 
Here
is a very clear visual explanation of the shoulder mechanics and impingement. On the other hand, the SLAP tear happens on the long biceps tendon and labrum connection. The figure below clearly shows the layout of the hardware and structures involved: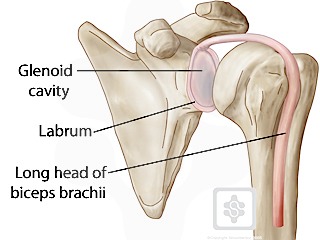 Let's go step-by-step to understand the injury. What does SLAP stand for? Superior Labrum Anterior to Posterior tear, in plain English, Upper Rim, front to back. How does it happen? If the arm is forcefully bent inward and twists at the shoulder, the head of the humerus acts as a lever and tears the biceps tendon and labrum cartilage from the glenoid bone in a front-to-back (anterior-posterior) direction. And that's how the SLAP tear gets its name:
Overhead throws, falling on an extended arm, or even serving a volleyball could provoke a SLAP injury. For your visual pleasure, here's a few examples of motions that could provoke a SLAP tear, if done with enough violence or repeatedly and abusively: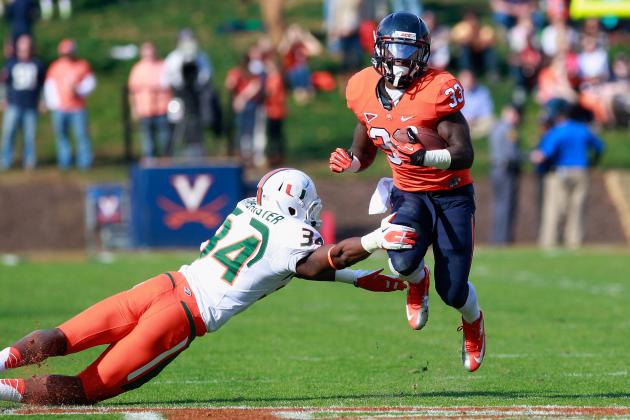 Quick routines, stretches and exercises are next in line to wrap this all up, so stay tuned for Part III of this series on The Shoulder, where we'll show and tell some ways you can (and should) stay on top of the prevention and prehab side of shoulder issues, instead of on the rehab side!  Like every other aspect of our health: better safe than sorry...